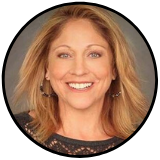 About Margaret Graziano
Margaret has faced her fair share of adversity – from building a successful career as a single mother with a high school education to leading her business through 9/11, the 2008 recession, and the current global crisis. In this webinar, she shares the tools she used to overcome those adversities and how you can apply them to your own business and life.
Remember:
Bullets are great
For spelling out benefits and
Turning visitors into leads.